Carl Larsson till Tokyo med inlån från Thielska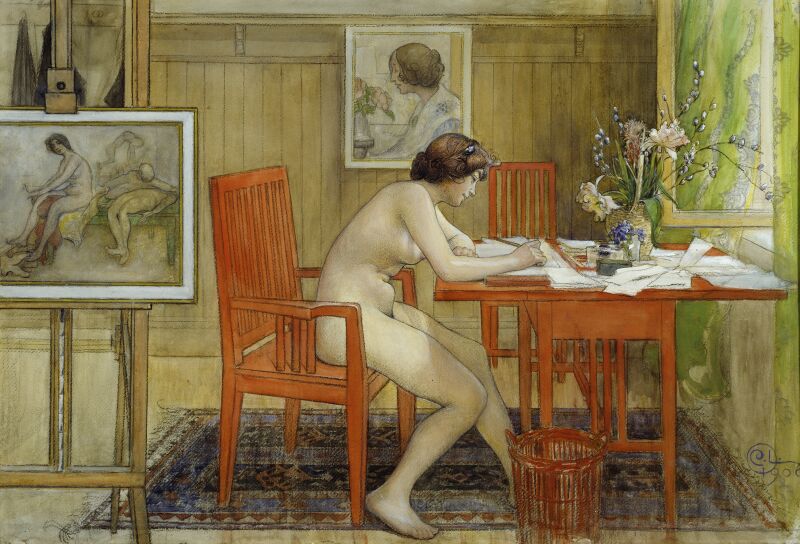 Carl Larssons målningar och Karin Larssons inredningskonst är med sina skarpa konturer och dekorativa effekter starkt influerade av  japansk estetik. Den 22 september öppnar en omfattande utställning i Tokyo med målningar, möbler och textilier som förmedlar en idé om inredningsidealen i konstnärshemmet i Sundborn i Dalarna. Inlånen kommer från Thielska Galleriet, Carl Larsson-gården och Göteborgs konstmuseum.
– Carl Larsson sa själv "såsom artist är Japan mitt fosterland.". Mot den bakgrunden blir det extra intressant att visa hans konst i Japan. Det blir också spännande att se hur man kommer att lyfta fram den svenska nationalromantikens japanska rötter, säger Patrik Steorn, museichef, på Thielska Galleriet.
Azalea (1906) och Modellen skriver vykort (1902) tillhör de sju målningar av Carl Larsson som Thielska Galleriet lånar ut till utställningen Carl Larsson and his Home – Art of the Swedish Lifestyle som visas på Seiji Togo Memorial Sompo Japan Nipponkoa Museum of Art i Tokyo under tiden 22 september–24 december 2018.
Carl Larsson tillhörde Ernest Thiels närmaste vänner och målade porträtt av Ernest, hustrun Signe och deras två barn Tage och Inga-Maria. Det rum på Thielska Galleriet där dessa målningar hänger är inspirerat av makarna Larssons ljusa och färgglada inredningsideal. Sammanlagt förvärvades 25 konstverk av Carl Larsson till samlingen på Thielska: oljemålningar, akvareller, kolteckningar och grafiska blad.
Utställningen Carl Larsson and his Home – Art of the Swedish Lifestyle ingår i 150-årsfirandet av de diplomatiska förbindelserna mellan Japan och Sverige.
Läs mer om utställningen i Tokyo
Läs mer om Carl Larsson och Thielska Galleriet