Stockholm New — national romanticism from double turn of the centuries: contemporary fashion photography meets classic masterpiece painting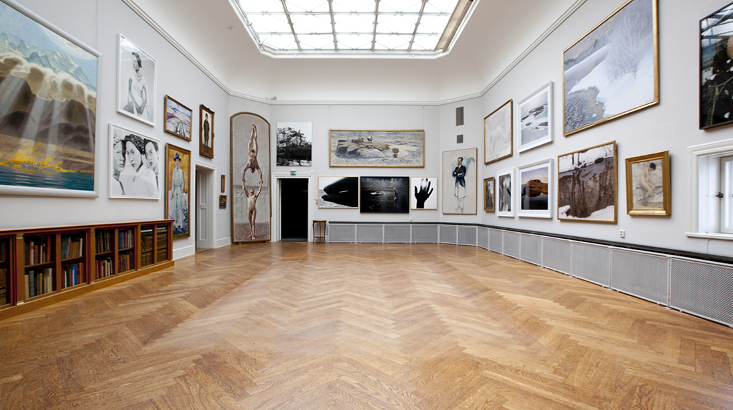 June 5 – September 1, 2013
The international, English language, multiple award-winning fashion and style magazine Stockholm New was published in a total of twelve issues over the years 1993-2002. It's a well-documented claim that the magazine was trendsetting, even groundbreaking, not only in Sweden but globally. It's also generally acknowledged that Stockholm New played a key role in the creation of a new contemporary "Sweden image" — that of a modern, cutting edge scene for fashion, trends, design, and a wide range of creative expressions.
Now the best of the classic material from Stockholm New has been selected for publication in a massive (496 pages hardcover) coffee table book, along with an even greater mass of newly produced exclusive material — fashion, nudes, art, landscapes, interiors, architecture, still-lifes, cultural history, portraits, historic photography and more. The book was launched on 4 June here at Thielska Galleriet museum in Stockholm's — a great event that also marked the opening of our exhibition Stockholm New — national romanticism from double turn of the centuries: contemporary fashion photography meets classic masterpiece painting.
In this exhibition, monumental prints of Stockholm New iconic photographic images from 1992-2013 are juxtaposed with our museum's unique, world-famous collection of Nordic and international masterpieces from the previous turn of the century — Edvard Munch, Vilhelm Hammershøi, Anders Zorn, Eugène Jansson, Bruno Liljefors, Carl Larsson, August Strindberg, Carl Fredrik Hill, Ernst Josephson, Prins Eugen, Paul Gauguin, Henri de Tolouse-Lautrec, and many more. The paintings and photographic images are presented in an all new and highly spectacular presentation in our three great upper floor rooms. The exhibition also features the installation "A future for the patron?" by four second year studens at the fashion programme at Stockholm's esteemed Beckmans College of Design.
The contributing photographers in the Stockholm New book and exhibition are Mikael Jansson, Sølve Sundsø, Julia Hetta, Elisabeth Toll, Frederik Lieberath, Andreas Larsson, Pelle Bergström, John Scarisbrick, Dawid, Magnus Mårding, Gösta Reiland, Lee Jenkins, Jan Welters, Enrique Badelescu, and John Akehurst. The total number of photographic images is 66, more than 50 of which are produced exclusively for the exhibition, for the first time and in one unique copy only. The majority of the images are classically photographedon celluloid film. A leading role is played by Sweden's world famous fashion photographer Mikael Jansson who contributes some 20 images, four of which are silicon mounted in the format 180x224 centimeters, the largest format possible to print on a single photographic paper.
" Just like the artists of that day, our game with Stockholm New was always national romanticism — unreserved worship of our homeland with all its treasures, myths, dreams, and fantasies," says Claes Britton, editor in chief and creative director of Stockholm New together with his partner and wife Christina Sollenberg Britton." I've always thought that fashion photography, at least of the grandiose, romantic kind that I myself prefer, has taken over something of the role that painting played at the previous turn-of-the-century — dealing exclusively with the beauty and the poetry, shamelessly disregarding the rest. Our grand vision is that some viewers may see both the photography and the paintings with fresh eyes. It's an important ambition with this exhibition to try to break down the rigid barriers between the tastes of different generations barriers that I find so boring in the art world."
"The fashion and other photography from Stockholm New is of suerior, amazingly timeless and iconic quality," says Andreas Brändström, Director of Thielska Galleriet. "It will be very interesting to juxtapose these images, which are of course also very sharp and contemporary in their expressions, with the masterpieces in our collection. It's a kind of exhibition that at least I can't think of having seen anywhere else. There are strong and obvious connections between fashion and turn of the 20th century painting. The artists of that day were often dandies and the women dressed in what could be refered to as couture. The art world was linked to high society, as at Thielska Galleriet. The painting of the garments and the fashion stature was often as important as the actual portraying, so painting filled an important fashion function which I think becomes clear in this exhibition.