The Jobs Sisters – ceramics and textiles
A passion for prints and floral art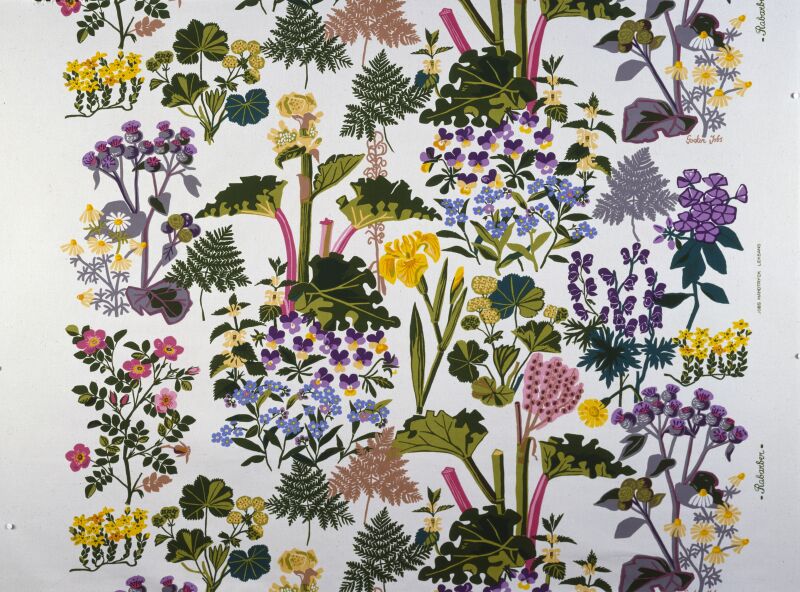 February 23 - June 2, 2019
The two sisters Lisbet and Gocken Jobs created ceramics and textiles that made Swedish homes blossom during the post-war period. Wild flower bouquets covers ceramic dishes and tiles while lingon- and blueberries are arranged into decorative patterns applied onto hand printed textiles. Folk culture with midsummer celebrations, people cheering and musicians playing are also found among the Jobs sisters' motives.
Their elaborated design became a source of inspiration for many generations to come and was rooted in vast knowledge on crafts and folk art traditions based in Dalarna. The forces of nature and the dramatic vegetation of the local landscape, the greenery and the shifting seasons were absorbed by the two sisters and transformed into tablecloths, curtains, bowls and tile trays that would decorate the idea of the Swedish society as a home for its' people.
The exhibition presents the two artists aesthetic vision in a lustful manner by using striking stagings in which living plants will be an important part of the setting. Themes and plants will also help to draw attention to the Jobs sisters entrepreneurial and collective working methods, the historical context dominated by the period of The People's Home/Folkhemmet of the 1930s–1950s with it's mixture of modernity, nostalgia and nationalism. The two artists references from art history will be made visible, stretching from folk art, to surrealism, modernism and their use of nature as a source of inspiration.
The legacy formed by the Jobs sisters is presented in a whole new way by the flower artist Gunnar Kaj in the halls at Thielska Galleriet. The exhibition is produced in close collaboration with the upcoming book Jobs keramik och textil: Lisbet Jobs och Gocken Jobs, två systrar – två konstnärskap (Jobs Ceramics and Textiles: Lisbet Jobs and Gocken Jobs, two sisters - two artistries), co-written by Hedvig Hedqvist and Christina Mattsson as editors broadens the perspective and deepens the knowledge of the two creative women, their patterns and the period in which they lived. The essays in the book are written only in Swedish.
Thank you for the support of the exhibition
Gocken Jobs AB
Jobsboden AB
Barbro Osher Pro Suecia Foundation
Jacob Wallenbergs Stiftelse
Boråstapeter
Gösta Westerberg Möbel AB
Jobs Handtryck
Kungliga Djurgårdens förvaltning
Leksandstolen
Malmstensbutiken
Erkers möbler AB
Swedese