Meta Isæus-Berlin - Suppressing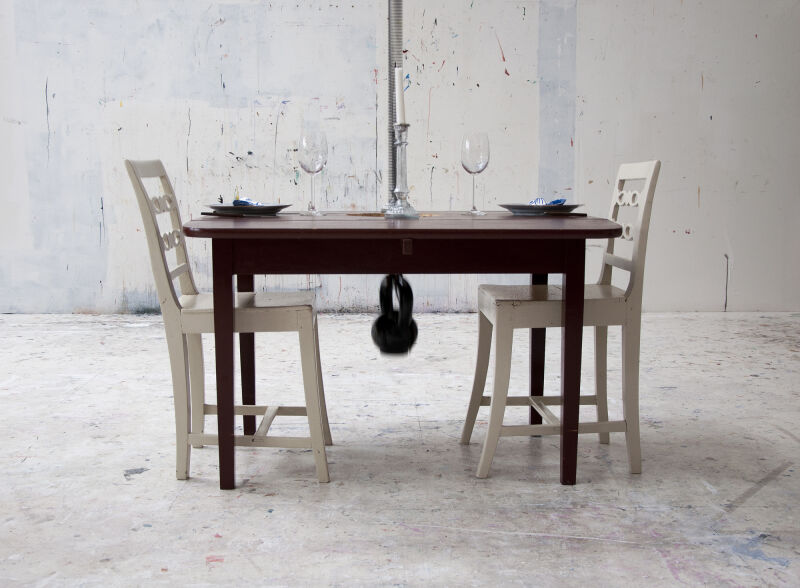 December 7, 2012 – January 20, 2013
Meta Isæus-Berlin's installations have an aesthetic terseness, where the setting of the narrative is based on the notion of the home. In her works, she uses stage structures as a visual framework. Familiar environments take on a dreamy atmosphere, where objects and materials are significant and tell their own story. Time and memory, dream and reality, are intertwined.
The work Sneak Suppression conveys a suggestion, an anxiety, and a perpetual movement. The atmosphere in the room grows denser and a psychological drama arises, with the viewer as witness. This work is the first new installation that Meta Isæus-Berlin has presented since 2006. It includes the diptych Every Ending Holds a Beginning.
Meta Isæus-Berlin (b. 1963) attained wide recognition in the 1990s for her installations, which have been featured in exhibitions all over the world, including the biennials in Johannesburg, Istanbul and Venice. In recent years, Isæus-Berlin has focused on painting, with solo exhibitions at Baukunst Galerie in Cologne and Galeri Sophie Scheidecker in Paris. In Sweden she has been shown separately at Galleri Andersson/Sandström, Liljevalchs Konsthall and Bohusläns Museum. Meta Isæus-Berlin studied at the Royal Institute of Art in Stockholm and the University College of Arts, Crafts and Design – Konstfack in the late 1980s and early 1990s. She is represented in several collections, including those of Moderna Museet in Stockholm, Kiasma – Museum of Contemporary Art in Helsinki, Malmö Konstmuseum, and Magasin 3 Stockholm Konsthall.