Inuti Thielska (Inside Thielska). Interpretations in Word and Images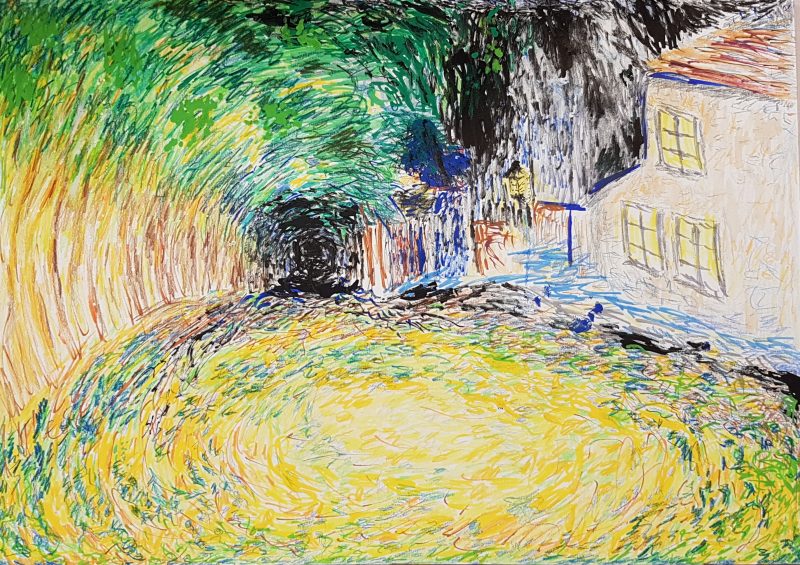 October 20, 2018 – January 27, 2019
The artwork and history of Thielska Galleriet are exciting and inspiring. Since spring 2016 Thielska Galleriet has been in a joint collaboration with the daily activity center Inuti Kungsholmen. Artists with intellectual disabilities have had the opportunity to work creatively on sight in Thielska Galleriet with inspiration from its collection and temporary exhibition.
The artists from Inutihave been following Ernest Thiel's footsteps, read about his extraordinary life, his passions, poetry and not least have studied his life's deed and home: Thielska Galleriet, designed by the architect Ferdinand Boberg to hold the vast art collection. The artists from Inuti have visited other places connected to Ernest Thiel's dedication and patronage, such as Saltsjöbaden, as well as looked into the collector as an individual, his family life, the art and the spirit of the turn of the 20th century.
A selection of artworks made since 2016 will be presented in an exhibition that will display interpretations of famous artworks in the museum, by artists such as Edvard Munch, Anders Zorn, Bruno Liljefors and Eugène Jansson, but also a ceiling painting by Karl-Axel Pehrson. It aims to explore how Thielska Galleriet can be a place of inspiration, learning and reflection, but it also contributes to broadening the audience of the artists from Inuti.
Contributing artists are: Amanda Danielsson, Anders Wettler, Britt O, Carina Pettersson, Hanna Björklund, Kia Gardelius Mårtensson, Ossian Rådmark, Pascal Fogelberg, Veronica D-S and Helen Fredriksson.
The foundation Inuti offers daily activity for artistically talented people with intellectual disabilities as well as people within the autism spectrum.
Thanks to greyson design for lending out tables to the exhibition.