Simple Pleasures. The Painter Akke Kumlien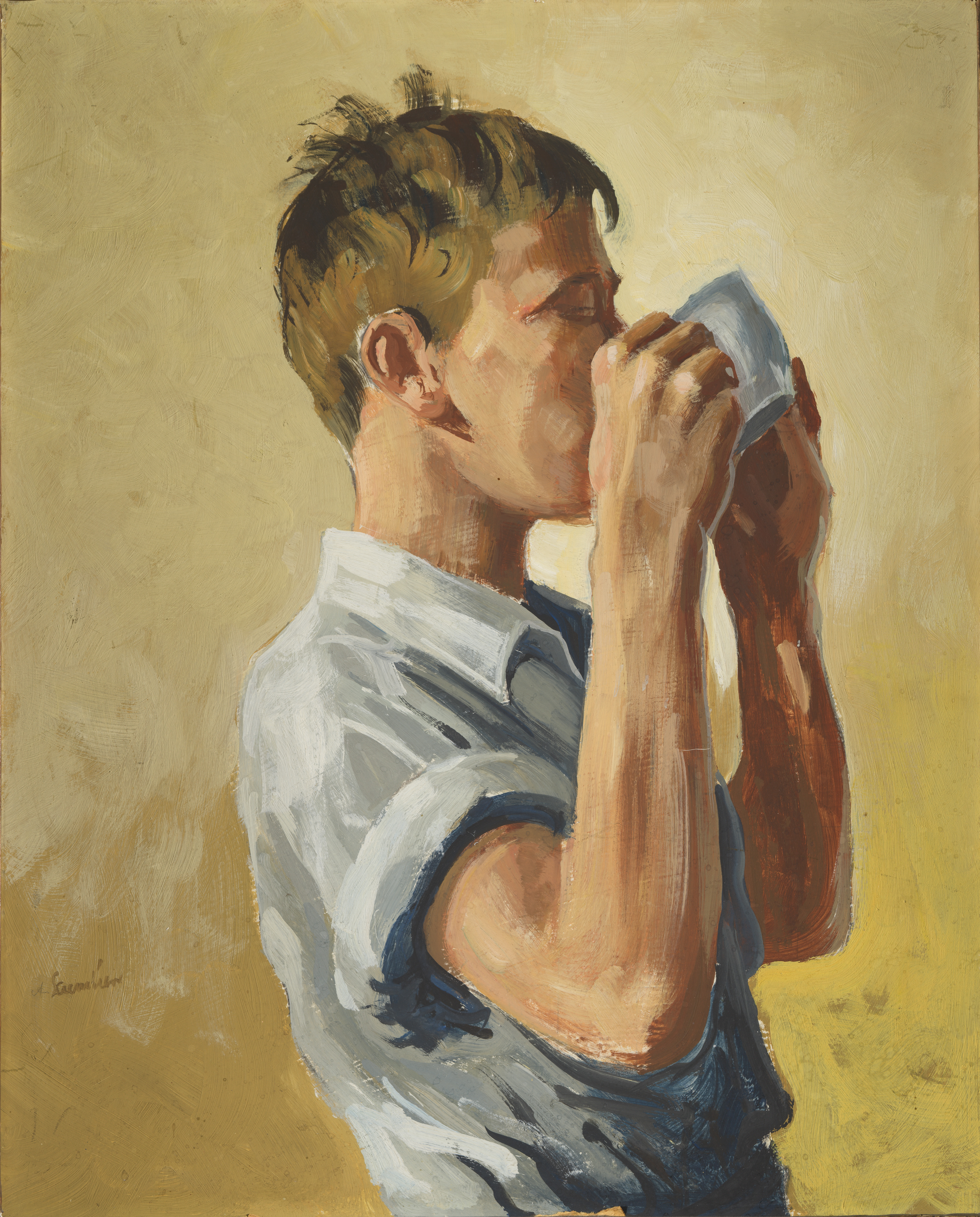 June 11 - November 6 2022
In 1946, the artist Akke Kumlien (1884–1949) was appointed curator of the Thiel Gallery, which meant that the museum also became his home. The family consisted of his wife in the second marriage, Anna Lena Kumlien, and the ten-year-old daughter Anne-Marie (Amie), who in adulthood would make a career as a politically engaged textile artist, then with the name Maria Adlercreutz.
The spacious studio room with windows to the north, which today houses the museum's café and restaurant, was prepared for an artist with an easel and paints. Akke Kumlien defended his identity as a free artist and when he received the press, he did so in a painter's coat rather than a tie and suit.
The exhibition Simple pleasures includes about fifty paintings, photographs and artist material and is the hitherto largest made with Akke Kumlien. The deposits come from a number of private individuals, the Roayal College of Arts, The Academy of Fine Arts and Moderna Museet. The exhibition is shown in a section next to the Salon upstairs, in the so-called Söderberg room and the passage outside.
Strollers, portraits, nature motifs
Akke Kumlien was self-taught as a painter and after his debut at Svensk-franska galleriet in Stockholm in 1923, he exhibited, despite good reviews, only sporadically. He did not allow himself to be sucked up by the modern currents of the time, but stuck to a traditional and finely tuned denomination with depictions of a seemingly uneventful everyday life: urban environments with strolling people floating on boulevards in Stockholm, Paris and Copenhagen, portraits of serious children during the break between noise and play, bays and boats raised in the reeds in the Stockholm archipelago, the surroundings at Djurgården and lazy days at the beach.
Akke Kumlien was a multi-tasker and today it can be difficult to understand how he managed to combine the position as curator at Thielska Galleriet with his other employments and many side assignments. In parallel with his career as a painter, he was an artistic advisor and graphic designer at Norstedt & Söner. director of Skolan för bok- och reklamkonst and created logos for, among others, Svenskt Tenn, Stockholms Auktionsverk and Expressen.
The exhibition at Thielska also revolves around Akke Kumlien's great efforts as an educator for generations of students at the Royal College of Arts.
The educator Akke Kumlien
In 1924 he began his long career as a teacher at the College and in 1935 he became director of the newly established Institute for Materialkunskap (Institute of Material Knowledge). Combining research, teaching and external information on the subject was a novelty and the department was the first of its kind in Europe. At this time the artist paints sold on the market did not always live up to their promise and Akke Kumlien collaborated for several years with Wilh. Becker AB (Beckers) to increase quality and create a uniform standard.
Akke Kumlien also wrote several notable handbooks on materials science and painting techniques. The book Oljemåleriet. Material, metoder, mästare (The Oil Painting. Materials, methods, masters) , from 1946, is a standard work and has been published in a number of editions. With his pedagogical skills and enthusiastic appeal, Akke Kumlien has helped many young artists to bone up the work process and find the path to their own expression. One of his many students at Royal College of Art was the artist Helga Henschen (1917–2002), granddaughter of Ernest Thiel.
Curator: Sophie Allgårdh, curator, Thielska Galleriet