A Home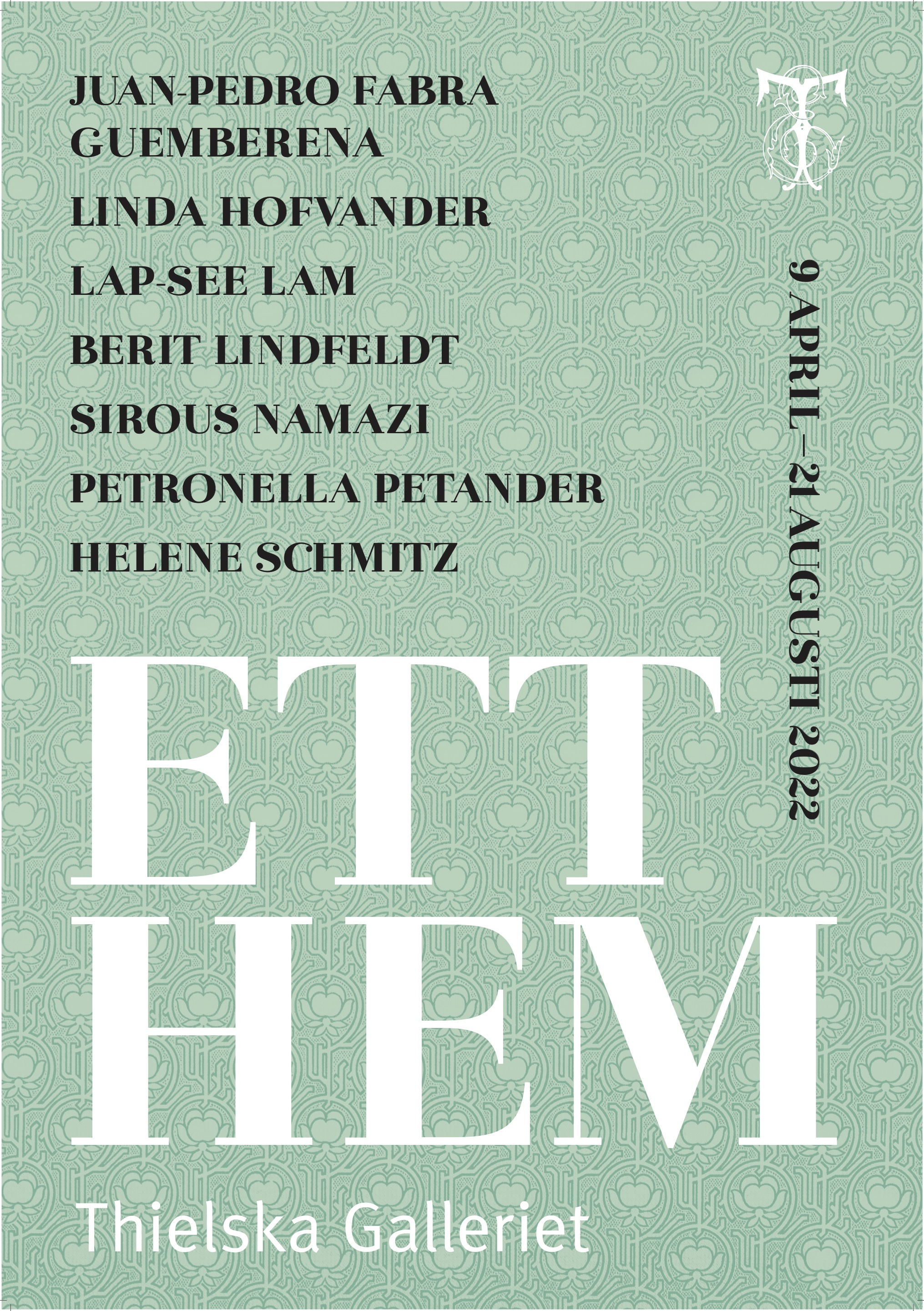 April 9 – August 21 2022
During an intense period at the previous turn of the century, Signe Maria and Ernest Thiel created one of Sweden's finest and largest collections of Nordic contemporary art. When the collection outgrew the family's apartment on Strandvägen, they commissioned the architect Ferdinand Boberg, to design the white palace on south Djurgården that is now the Thiel Gallery. The idea was to create a combined exhibition space and home in the main building, which was completed in 1907. In a conversation with Boberg, Thiel said: "I want a home decorated with paintings on all the walls, it should be pleasant, I want to live there."
A Home looks at the Thiel Gallery's origins as a residence and strives to explore and enhance its dual identity as a home and anart space. The theme is highlighted from a site-specific and contemporary perspective. In the spirit of the Thiels, we wanted to include contemporary art and have invited the following seven artists, who reflect in different ways on what a home is: Juan-Pedro Fabra Guemberena, Linda Hofvander, Lap-See Lam, Berit Lindfeldt, Sirous Namazi, Petronella Petander and Helene Schmitz.
The name of the exhibition alludes to Carl Larsson's famous series of watercolours from the 1890s of his home/studio in Sundborn. Larsson was an influential artist to the Thiel couple and is richly represented in the collection, which also contains a first edition of the book Ett hem [A Home] from 1899. The Gallery also has a separate Carl Larsson room.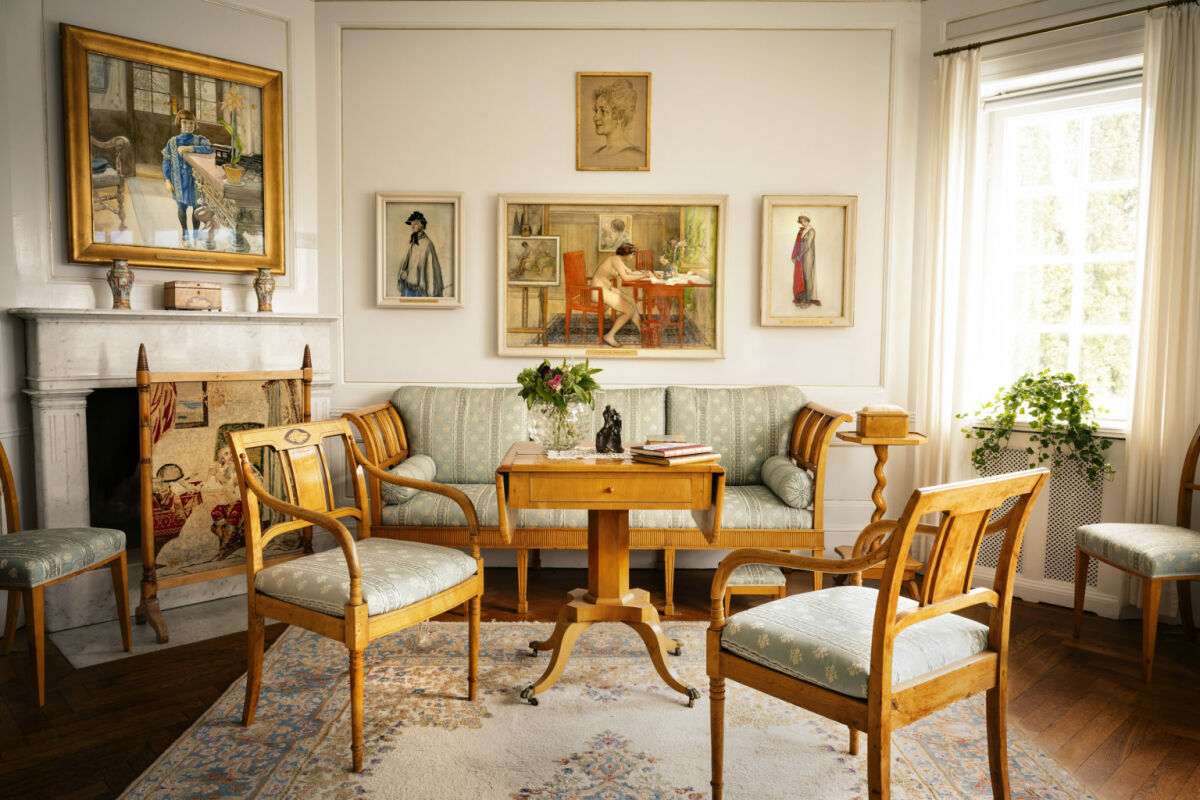 The exhibition seeks to show linked yet distinctly different examples of what a home can be and what it means. Since the Thiel Gallery became a museum in 1925, the emphasis is on memories and notions of home. How is this subject approached in contemporary art? Some artists explore the memory of a home that is no longer accessible, because they were forced to flee from disasters. Other artists may portray former homes for different reasons, even when the departure was less dramatic. Rooms for memories. Rooms that are about to disappear or never really existed. There are works picturing homes that represent a model, loss, security and trauma.
Juan-Pedro Fabra Guemberena was born in 1971 in Montevideo, Uruguay, and came to Sweden as a refugee in the late 1970s. This event forms a theme that runs through his artistic practice. Fabra Guemberena works in many different media, including film, photography and painting. He studied at the Royal Institute of Art in Stockholm and exhibits regularly both in Sweden and internationally.
Read more about Juan-Pedro
Linda Hofvander was born in 1978 in Stockholm and focuses primarily on analogue photography, seeking out subjects that balance between spatiality and abstraction. She studied at the School of Photography, University of Gothenburg and the University of the Arts London. Hofvander's works have been shown in several exhibitions in Sweden and abroad. Read more about Linda
Lap-See Lam was born in 1990 in Stockholm and studied at the Royal Institute of Art in Stockholm. In her works, she explores narratives relating to the Cantonese diaspora in Sweden in texts, animations and sculptural installations, often with the use of digital technology. She has participated in numerous exhibitions in Sweden and other countries. Read more about Lap-See
Berit Lindfeldt was born in 1946 in Stockholm and studied at Konstindustriskolan and Valand Academy, both in Gothenburg. Her sculptures made of various materials are intense portrayals of everyday life and memories, where the home and spatiality are essential. Lindfeldt's works can be seen in public places all over Sweden. Read more about Berit
Sirous Namazi was born in 1970 in Shiraz, Iran, and works simultaneously in a variety of techniques and media, including sculpture, painting, photography and video. Some of his central themes are exclusion, identity and vulnerability. He has participated in numerous exhibitions in Sweden and abroad.
Read more about Sirous
Petronella Petander was born in 1977 in Stockholm and studied at the Konstfack University College of Arts, Crafts and Design in Stockholm. Her artistic practice is characterised by narratives in text, videos, sound, photography and installations on the themes of belonging, homelessness, memory and time.
Read more about Petronella
Helene Schmitz was born in 1960 in Stockholm. She is a photographer and studied film and art theory at Stockholm University. In her practice, she examines our complicated relationship to nature, time and mortality. Schmitz exhibits regularly in Sweden and internationally and has published several photographic books.
Read more about Helene