The permanent collection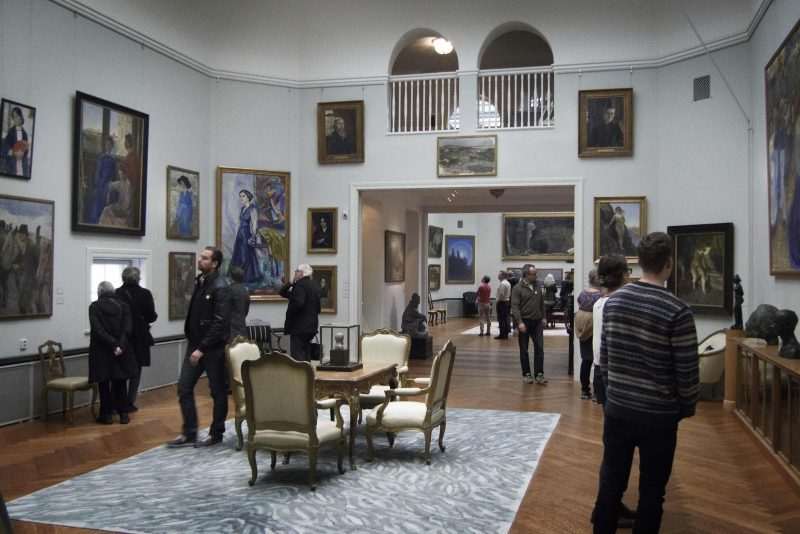 In 1896, Ernest Thiel bought his first large painting, Morning Mood by the Sea by Bruno Liljefors. He continued to add to his collection, and soon the apartment on Strandvägen was too small. "I want a home decorated with paintings on all the walls, I want it to be comfortable, I want to live there" Thiel wrote to the architect Ferdinand Boberg, whom he chose to design his new home.
In 1904-07, his palace was built on Blockhusudden on Royal Djurgården for his family and his already enormous art collection. The upper storey was designed according to Thiel's suggestion, with two large halls. Thiel was a patron to artists of his own generation. Nearly all of them became his friends, including Eugène Jansson, Carl Larsson and Bruno Liljefors. Danish and Norwegian artists such as Edvard Munch also frequented Thiel's gallery.
Today, in addition to the two large halls, the house boasts an exquisite Munch Room. Other rooms are named after Carl Larsson, Hjalmar Söderberg and Axel Törneman. There are two turret rooms at the top of the building, one of which contains the death mask of Nietzsche and prints by Edvard Munch.
This unique collection from the previous turn of the century includes works including paintings by Bruno Liljefors, Ernst Josephson, Edvard Munch, Eugène Jansson, Carl Larsson, August Strindberg and Anders Zorn. But there are also works by Paul Gauguin and Henri Toulouse-Lautrec in the collection. Several sculptures by artists such as Auguste Rodin and Gustav Vigeland are found in the surrounding park. The collection, the house and the park form a harmonious unity.
The Thiel Gallery was opened to the public in 1926, when the Swedish government acquired the building, the art collection and other inventory.