Elin Elfström & Emanuel Röhss – Installations in the Park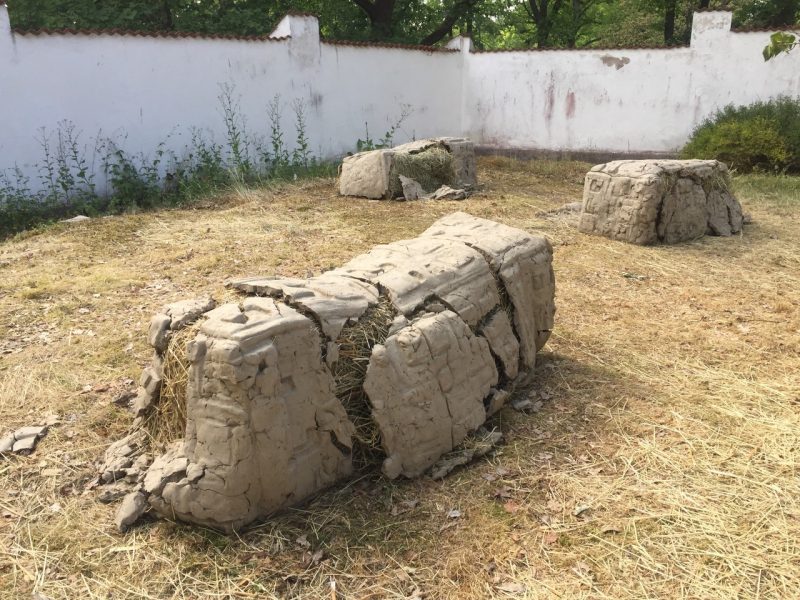 June 9 – October 7, 2018
Elin Elfström and Emanuel Röhss are two artists who refer to popular culture in different ways. They often use simple materials but of distinctive character and descent. For the exhibition at Thielska Galleriet they have produced new work that relate to the site.
Elin Elfström's installation includes consumed and abandoned objects that can lead the mind to Ernest Thiel's economic rise and fall. Like a memorial monument or a site for an archaeological excavation the work incorporates narratives on fate. The notion of transience and decay is also evident in Emanuel Röhss' installation of works created on site. As the exhibition proceeds, it will slowly moulder away and dissolve back into nature's cycle. The two artists' ways of using artifacts and material from diverse contexts and environments open up for dialogue with the unique architecture and art treasures that Thielska Galleriet represents.
Elin Elfström's work evolves around contemporary and urban life. Her sculptures resemble archaeological findings of today. Simple objects such as soda cans, old cell phones, make-up, jewellery and candles are material she uses in her sculptures. The found objects she collects are often arranged in cast forms made up of for example shoeboxes. She has an empathic approach towards the consumed abandoned objects. Elfström's work evoke notions of a dysfunctional reality and lifestyle. Through reflections of her own emotional states in the material she uses, she examines and tries to understand herself and our time.
Elin Elfström (b. 1981) lives and works in Stockholm. She studied at Umeå Academy of Fine Arts, Academy of Fine Arts Vienna and the Vietnam University of Fine Arts in Hanoi. Previous exhibitions include: Galleri Andersson/Sandström, Stockholm, Galleri Thomassen, Gothenburg, IDKA, Gävle, Kamarade, Stockholm as well as public commissions in Gävle and Sandviken.
Emanuel Röhss explores the relationship between architecture from historical and contemporary civilizations. In his practice he is interested in the creation of illusory environments and how architectural elements reappears in different contexts. In his long-term project with Frank Loyd Wright's Ennis House built 1924 in Los Angeles, he examines how a building comes to life through the production of fiction in cinema, television and games. His installation at Thielska Galleriet draws upon the set designs of fiction cults like Blade Runner and Game of Thrones, whose designs in their turn follow architectural details of Frank Loyd Wright's buildings. Predominantly working with sculpture, installation and painting, each body of work is made with careful consideration according to the context.
Emanuel Röhss (b. 1985, Gothenburg) lives and works in Los Angeles. Röhss studied at Royal College of Art in London, where he received an MA in Painting. Solo exhibitions include Thomas Duncan Gallery; Los Angeles, Coma Gallery; Sidney, SALTS; Basel, T293; Rome, Index; Stockholm and Project Native Informant, London. Group exhibitions include Sadie Coles HQ; London, Postcodes; São Paulo, Museo Capadimonte, Napels and South London Gallery.
Map over the installations in the park (in Swedish)
ELIN ELFSTRÖM & EMANUEL RÖHSS, installations in the park is curated by the exhibition collective Kamarade. Kamarade is directed by art historian Amelie Edlund, artist Anna Kleberg Tham and graphic designer Maja Kölqvist. Since 2010, Kamarade produces exhibitions in collaboration with artists, institutions and private operators.
www.kamarade.org
www.elinelfstrom.se
www.emanuelrohss.com