Cecilia Ömalm Krajcikova – Nocturne I/ Denderah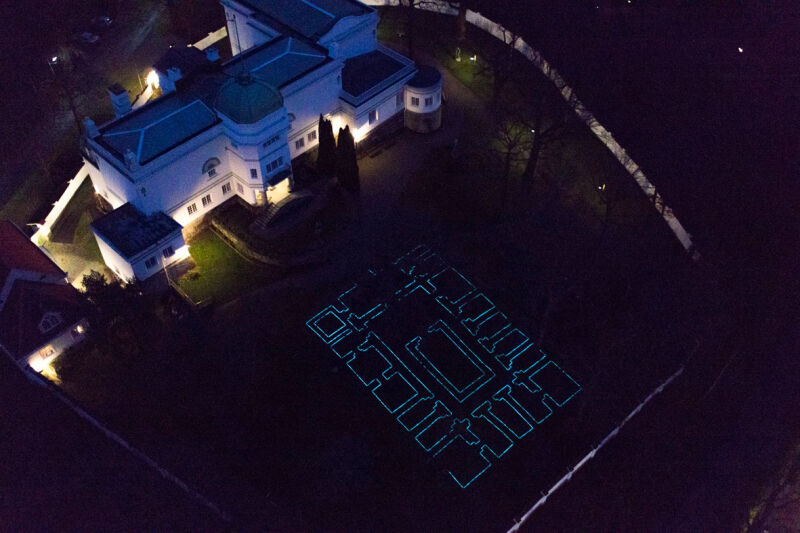 October 19 – December 2, 2012
An examination of historic and architectonic fragments. The floor plan of an old Egyptian temple from thousands of years ago, with hidden sepulchres, holy rooms with ritual meanings. On a surface measuring nearly 500 sq m, an intense blue-green light cuts through the hilly terrain, ruthlessly drawing its history with no concern for the contemporary world. As darkness falls, the work is activated and the outlines of rooms and chambers appear and open up for visitors to enter a fictional light-drawing.
In her work, Cecilia Ömalm Krajcikova (b. 1974) combines photography and digital collage techniques with installation and sculpture. She is represented in the Moderna Museet collection and in public spaces through the National Public Art Council and Stockholm Konst. In 2010-2012, she was awarded the City of Stockholm Studio Scholarship "for her ability to use intricate shifts in proportions and perspectives to create a world that oscillates evocatively between the fantastic and the forbidden, between the living and the dead. With her works, Ömalm Krajcikova highlights in practice how processing – in images and spaces – can lead to an uncertainty that resurrects and regenerates the past in great art."
With thanks to our co-producer Stockholm konst as well as lighting consultant Anna Bergström, Studio Stenfors and art students from Viktor Rydbergs Gymnasium.