Gravitational Ripples (Working-with): A dialogue about spirituality, science and art in a post-human state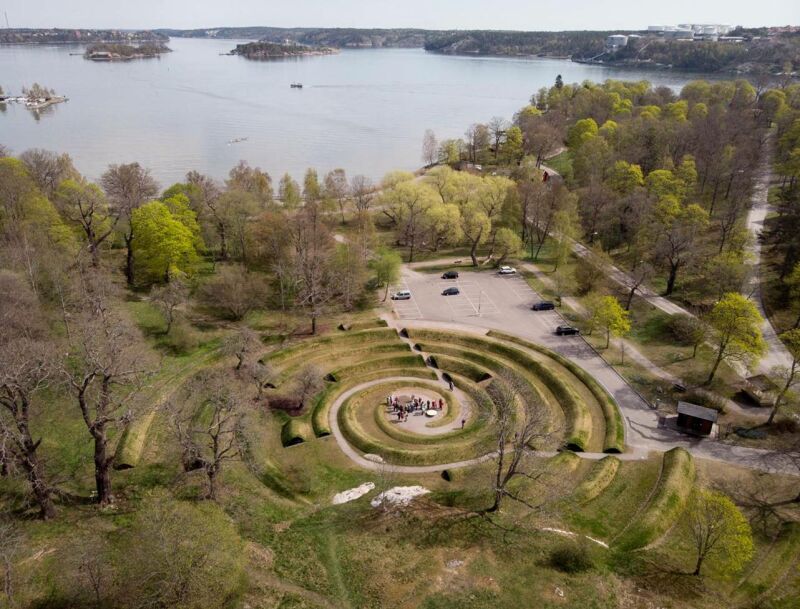 In a dialogue between artist Lea Porsager and researcher Cecilia Åsberg, themes within the fields of art, spirituality and science are explored. With the inspiration of eco-feminist ideas, the conception of a world divided between nature and culture, and where the human being is the protagonist, are challenged.
Porsager's method "Working-with" focuses on the interaction between nature, spirit and science. The artist is inspired by scientific observations of gravitational waves and thinkers such as, Karen Barad and Donna Haraway, and emphasizes that we, as humans, are part of a larger coherent organism and of the cosmos. Likewise, Åsberg describes how the environment is present in us in the same way that humans are entirely part of the environment. We are entangled with other systems, beings and technologies, which creates a new set of conditions to comprehend the incomprehensible – something that the land art piece Gravitational Ripples also testifies to. Following the conversation, we make a joint site-visit to the artwork, which is located a few minutes' walk from the Thiel Gallery.
Gravitational Ripples is inspired by a cosmic phenomenon known as gravitational waves, predicted by Einstein as early as in 1916, but first measured by scientists in 2016. Gravitational waves arise when two celestial bodies orbit each other, spinning closer and closer together, unleashing energy so powerful that it creates ripples in spacetime itself. The memorial conveys this all-encompassing, pulsating movement of the universe. It is a meditation on the boundless forces of the universe, a reminder of the cosmic disruptions that bind and unite us.
The programme is a collaboration with the Thiel Gallery and is held in English.
Please RSVP latest on May 23rd to assistant curator Elena Jarl by email: elena.jarl@statenskonstrad.se
For more information about Gravitational Ripples, please visit our website: Gravitational Ripples
Programme May 28
15:45 Gathering at the Thiel Gallery's Munch hall (Munchsalen)
16:00 Welcome and introduction
16:15 Self-presentations: Lea Porsager and Cecilia Åsberg
16:25–16:55 Dialogue between Lea Porsager and Cecilia Åsberg
16.55 Q&A moderated by Elena Jarl
INTERMISSION & REFRESHMENTS
17:15–17.30 Lotta Mossum and Lea Porsager introduces the art work Gravitational Ripples
17:30–18:00 Site visit to Gravitational Ripples together with the artist and curator