Salon. Anders Frostenson – the versatile psalmist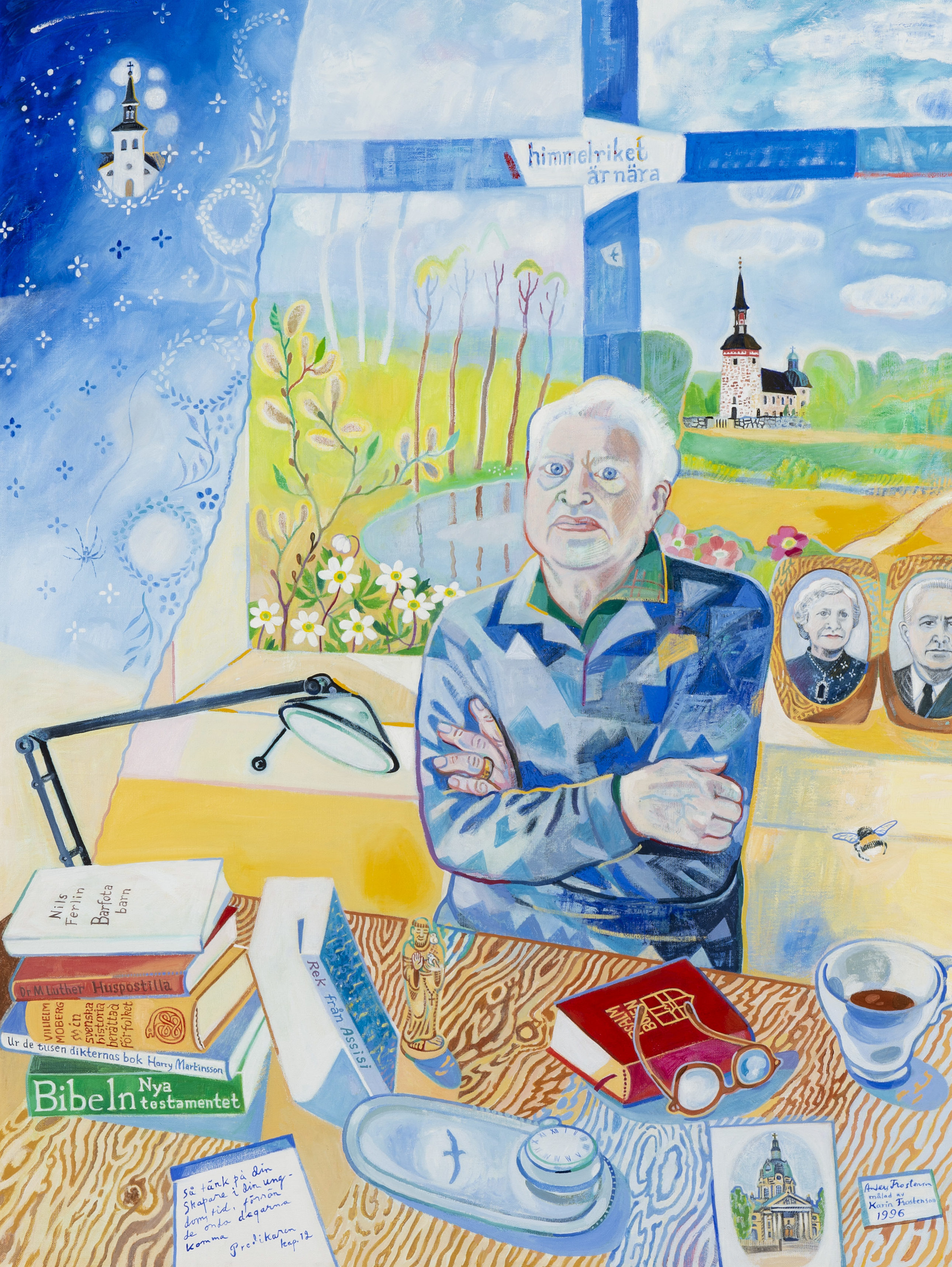 What should a psalm look like? Much like asking what a flower should look like, according to psalmist Anders Frostenson (1906–2006)
Welcome to a salon that highlights the versatility of Anders Frostenson's writing.
Beside writing the beloved hymns, God's love is like the beach and grass (1968), Jesus of Nazareth goes here (1935), and The flames are many (1972), he was also a poet and published eight collections of poems, made movies at his own movie company, wrote children's books and interpreted lyricists such as Claudel, Rilke and John of the Cross.
The initiative for this salon comes from the artist Karin Frostenson (b.1946), current in the exhibition Present time, Past time, Dream time at the Thiel Gallery. She was a part of the 68-movement, and co-worker in the left-wing newspaper PUSS together with, among others, Carl Johan De Geer, Lena Svedberg and Lars Hillersberg (her then husband). Karin Frostenson comes from a diverse family with many prominent people. The exhibition at the Thiel Gallery shows an entire room with her family portraits, including work of her father on behalf of the National Portrait Collection and the Nationalmuseum.
Program:
Sophie Allgårdh, producer and moderator, introduces the evening
Karin Frostenson talks about her portrait of Anders Frostenson. Poem reading: "A cemetery in light"
Unique photos from the family album. Poem reading: "God is silent"
Göran Sahlberg, author and religious psychologist, "Psalm and poem. The versatile of Anders Frostenson"
Irma Schultz, singer and fellow AF Foundation Psalm & Song, performing two of her own songs
Dan Arvefjord, musician and composer, performance of two poems by Anders Frostenson
Release of publications with partially unpublished texts by Anders Frostenson
About Anders Frostenson
He is the greatest psalmist of our time and has written, translated or edited a quarter of the psalms in The Swedish Book of Psalms (1986 Psalm Book). The book received great attention for its modern language and democratic appeal. Anders Frostenson was a pastor of the Swedish Church but also sought cooperation across borders. "The Frostensonian Psalm Book" therefore also included several songs from the Swedish independent churches.
In 1977, Anders Frostenson founded the AF Foundation Psalm and Song to stimulate new hymn poetry. The foundation runs a 2-year psalm school and awards scholarships to promising authors. In 2010 Anders Frostenson's Psalm Center was inaugurated - a collaboration between the AF Foundation Psalm and Song and Ersta Sköndal Bräcke University.
The event is included in the entrance fee.
The event will be held in Swedish.
To attend the event, please notify us in advance at:
info@thielskagalleriet.se
Café Monika Ahlberg. Pre-booking
1 sandwich and a glass of wine: SEK 200 (ord. SEK 213)
Shrimp sandwich or Skagen
or
Herring sandwich + beer Guldkällan (50 cl): 180 SEK (ord. 190 SEK)
cafemonikaahlberg@gmail.com
Thanks to the AF Foundation Psalm and Song