Previous exhibitions
Garden Tales
Contemporary Swedish Sculpture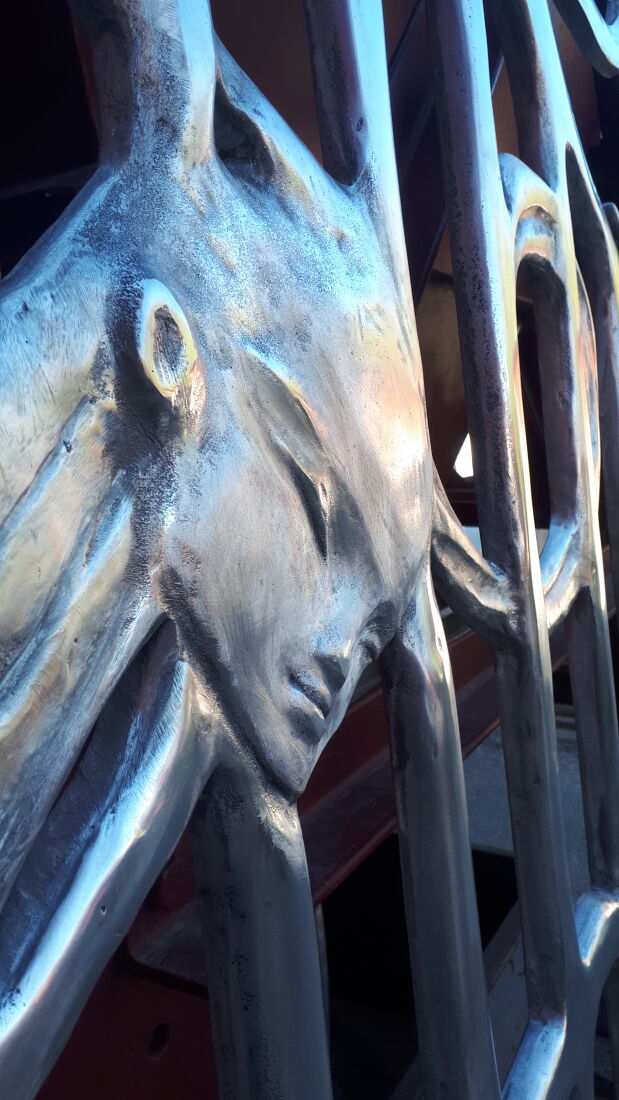 8 juni–6 oktober 2019
The summer park exhibition presents three contemporary Swedish artists: Christian Andersson, Fia Backström och Linda Pedersen. They have in different ways challenged the history and tradition of ideas of the Thiel Gallery in an exhibition which evolves around activism, climate issues, virtual reality, changes of perspectives and fictive characters.
Christian Andersson (b.1973) lives and works in Malmö and Paris. Andersson's driving force is to share his hypotheses and thoughts and thus introduce a more diverse perception of the environment. In the park at the Thiel Gallery he has bee working in dialogue with, and made additions to, the permanent art collection. Christian Andersson's work will be installed onto Auguste Rodin's sculpture The Shadow (L'Ombre) during the following periods: June 8-23 and September 9-22. Images of the installed work will be accessible online throughout the entire exhibition period. Selected exhibitions: Galleri Nordehake, Moderna Museet, Palais de Tokyo, Biennale de Lyon.
Fia Backström (b.1970) lives and works in New York. Backström is interested in the contexts and circumstances an art exhibition encompasses, such as the relationship between the art work and the audience. Backström often works site-specificly with questions about the collective and image production. In the exhibition she has taken interest in how contemporary climate activism and nationalism may have roots in national romantic ideas. Selected exhibitions: Marabouparken, Moderna Museet, Venice Biennale, Serpentine Gallery.
Linda Pedersen (b.1987) lives and works in Stockholm. Pedersen works with large-scale figurative sculptures in spatial installations containing several different mediums such as video, drawing, and found material from nature. In the exhibition she displays a large sculpture which relates to the architecture of the Thiel Gallery and addresses issues of security and alienation. Selected exhibitions: Loyal Gallery, Galleri Thomassen.
GARDEN TALES, Contemporary Swedish Sculpture, is curated by Kamarade,  for the third time invited by the Thiel Gallery to create a dynamic dialogue with the museum and its art historical context. Kamarade has made art exhibitions and projects since 2010. Kamarade is directed by art historian Amelie Edlund, graphic designer Maja Kölqvist and artist Anna Kleberg Tham.
Guided viewings
Sunday 9 June 13.00
Saturday 15 June 16.00
Viewings are led by Amelie Edlund and Linda Pedersen
Transport
Bus 69 (towards Blockhusudden), SL-boat nr 80
Opening hours: Tuesday­-Sunday 12.00-17.00, Thursday 12.00-20.00, closed on Mondays
Free entrance to the park, admission fee for the gallery.
The Thiel Gallery is not adapted for visitors with reduced mobility but the park is accessible for visitors with reduced mobility.